Sebab rata – rata komputer pada kantor masih setia pada Windows XP kami baru tahu bahwa setiap kali membuka Google Chrome akan muncul pesan "This computer will soon stop receiving Google Chrome updates because Windows XP and Windows Vista will no longer be supported.". Ini bukan berarti ada kerusakan atau error – selain telah saatnya kita upgrade pada Windows 7 atau diatasnya – tapi cuma notifikasi saja bahwa browser tersebut tak akan diupdate lagi.
Ya.. kesimpulannya notification bar ini cuma mengganggu saja tapi kalau dapat dihilangkan kan lebih enak dikala menjalankan browser. Ya kan? ?? Ini solusinya lumayan gampang kok, silahkan tekan kanan di icon shortcut Google Chrome dan pilih Properties.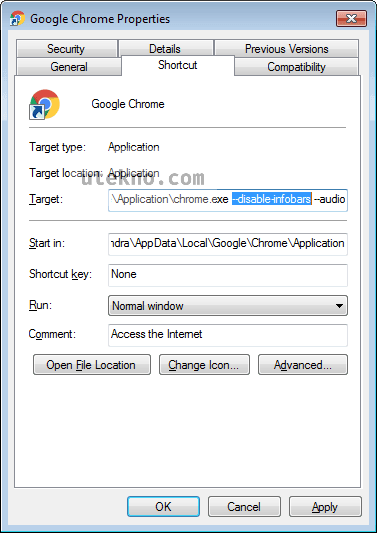 lalu di kotak Target tambahkan kode –disable-infobars pada akhirnya dan berikutnya tekan Apply. setelah dia setiap kali kamu menjalankan browser tak akan muncul kotak notifikasi soal update ini pada Windows versi lama.
Trik ini harus digunakan di setiap shortcut satu per satu, jadi kalau pada Laptop, Pin, Taskbar dan Start Fitur ada ya kerjakan lagi.
Kami harap bermanfaat. ??