Apakah kamu mendapati error pada Windows pada kode R6031 dikala menjalankan program tertentu? Ini yaitu masalah yang lumayan sering ditemui pada pemakaian program operasi Windows sehari – hari tapi biasanya Runtime Error! mempunyai kode berbeda.
Contoh pesan dari error Windows ini lengkapnya yaitu:
Runtime Error!
Program: C:Program Files (x86)Glary Utilitesinitialize.file exe

R6031
-Attempt to initialize the CRT more than once.
This indicates a bug in your application.
Berbeda pada error runtime dengan kode R6002 sebelumnya? yang kadang dapat diatasi pada menginstall ulang Microsoft Visual C++ Runtime Redistributable, error ini tampaknya tak dapat pada gampang diperbaiki.
Memasukkan program di daftar whitelist DEP
Masalah ini ternyata dapat disebabkan oleh Data Execution Prevention (DEP), dan kamu dapat mengakalinya pada mendaftarkan program yang bermasalah di DEP supaya tak diblokir.
Pertama-tama bukalah Control Panel Windows dan search System.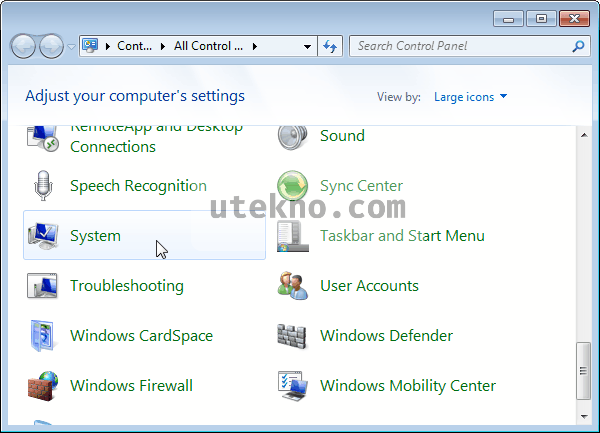 Akses Advanced system settings.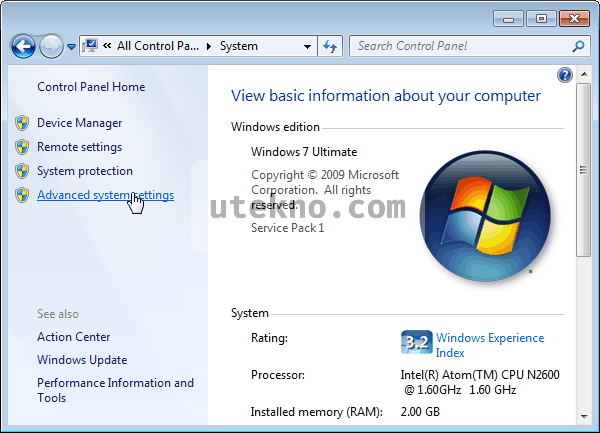 Lihat bagian Performance dan tekan tombol Settings.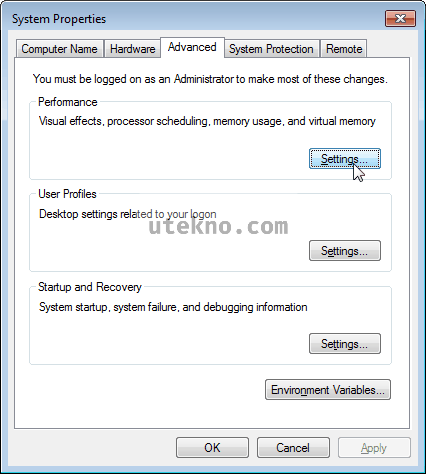 Pilih tab Data Execution Prevention, pindahkan option dari opsi "Turn on all DEP for essential Windows programs and services only." pada "Turn on all DEP for all programs and services except those I select."
Berikutnya klik tombol Add… dan masukkan program yang bermasalah didalamnya. Kami harap masalah Runtime Error! R6031 ini tak muncul lagi setelah ini. Ada tutorial lain mengenai Data Execution Prevention ini tapi admin tak menyarankannya kalau benar – benar tak membutuhkannya yaitu pada mematikan DEP secara permanen. Masalahnya DEP ini yaitu fitur keamanan, pada menonaktifkannya resiko bahaya kepada keamanan Windows akan meningkat.
Menjalankan aplikasi registry Windows
Petunjuk berikutnya yaitu pada memanfaatkan registry editor Windows, hakekatnya tutorial ini malah lebih kecil kemungkinan berhasilnya – tapi tak ada salahnya mencoba bukan. Akses lokasi HKEY_LOCAL_MACHINESoftwareMicrosoftWindows NTCurrentVersionAppCompatFlagsLayers menjalankan aplikasi Registry Editor.
Search nama program yang error disini, bila ada hapuslah.
Lainnya
Kalau masih belum tuntas pun walau telah mencoba beberapa tutorial diatas, coba install ulang Microsoft Visual C++ Runtime Library kamu – sayangnya admin tak tahu versi mana yang pasti mengatasinya. Alternatifnya install ulang software yang bermasalah tersebut, ini kemungkinan dapat memperbaiki error sebab glitch di Visual C++ Runtime Library.