Windows Network Diagnostics ialah tool dari Microsoft guna melacak adanya masalah di koneksi komputer pada Windows. Via program ini karenanya akan dilakukan diagnosa dan deteksi letak permasalahan kenapa komputer kamu tak dapat menjalankan internet atau akses jaringan lokal.
Diantara pesan error hasil pengecekan Troubleshoot ialah:
"The computer or device you are trying to reach is available but it doesn't support what you are trying to do. this might be a configuration issue or a limitation of the device' no idea what that means."

"The remote device or resource won't accept the connection. The device or resource (192.1.1.254) is not set up to accept connections on port '6853".
Dimana domisili IP dan port yang dicantumkan dapat berbeda tergantung konfigurasi modem atau jaringan kamu.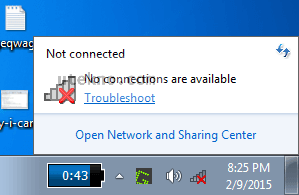 Ada beberapa penyebab kenapa masalah ini terjadi, tapi yang sangat umum ialah sebab memang modem kamu rusak atau (semoga saja) pengaturan internet pada Windows yang berubah. Sangat sering hal ini disebabkan adanya pengaturan proxy server yang aktif pada Windows dan lupa guna dinonaktifkan.
Jadi solusinya lumayan mudah:
Akses Internet Explorer.
Akses Internet Options.
Akses tab Connections.
Tekan LAN Settings.

Hilangkan centang di "Use a proxy server for your LAN".

Tekan OK.
Biasanya setelah ini koneksi komputer kamu akan kembali normal dan dapat online lagi.
Kami harap memudahkan. ??