Fitur Drag and Drop ini terus terang amat memudahkan pada administrasi file dan folder pada Windows. Tinggal tekan saja di satu atau lebih file dan tekan, kemudian tahan dan tarik pada lokasi lain karenanya akan otomatis berpindah. akan tetapi selaku pekerja IT yang mensupport banyak komputer pasti pernah kewalahan gara – gara kesalahan user pada memanfaatkan fitur ini.
Yang sering admin alami ialah report kehilangan file atau folder yang diletakkan pada network share dan pada komputernya sendiri. Dan setelah admin search nama filenya ternyata tak sengaja dipindah pada folder lain pada lokasi yang sama. Masalah sepele layaknya ini lumayan membuang waktu sebab melewat birokrasi kantor dulu baru dapat diperbaiki. Repot kan?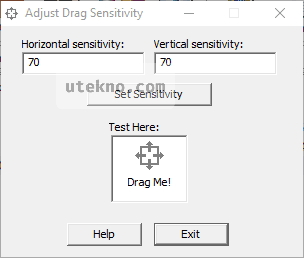 Akhirnya setelah search tahu ada solusinya guna mematikan atau mensetting sensitivitas fitur DnD ini. Sangat gampang yang admin dapatkan ialah menjalankan aplikasi program WinDragSens dari sini: http://www.parkscomputing.com/applications/windragsens/ dan fungsi kita tinggal mengatur angka level sensitivitasnya. Defaultnya guna Horizontal sensitivity dan Vertical sensitivity ialah 4 pada Windows. Admin sarankan seketika naikkan jadi 70 keduanya.
akan tetapi ada tutorial manualnya lewat registry. Akses lokasi HKEY_CURRENT_USERControl PanelDesktopDragHeight dan HKEY_CURRENT_USERControl PanelDesktopDragWidth dan ubah nilai yang dimanfaatkan. lalu silahkan logoff atau restart Windows.
Nanti efeknya ialah proses penarikan file dan folder agak sulit jadi kemungkinan salah drag and drop amat kecil, mesti benar – benar niat baru dapat terjadi. Kalau cuma salah geser tak akan terjadi apa – apa.