Ya, kasusnya ketika menjalankan Google Chrome dan membuka tempat tinggal situs apapun malah gagal. Padahal lewat Firefox normal – normal saja. lalu kami pastikan lewat Microsoft Edge ternyata pun error, isi pesan kesalahannya mirip – mirip.
No internet There is something wrong with the proxy server, or the address is incorrect.
Try:

Contacting the system admin
Checking the proxy address
Running Windows Network Diagnostics
ERR_PROXY_CONNECTION_FAILED
Yang kalau dicek detailnya ada semacam panduan mini guna mengatasinya.
If you use a proxy server?
Check your proxy settings or contact your network administrator to make sure the proxy server is working. If you don't believe you should be using a proxy server: Go to the Chrome fitur > Settings > Show advanced settings? > Change proxy settings? > LAN Settings and deselect "Use a proxy server for your LAN".
Masalahnya ketika diikuti, di opsi/tombol LAN Settings tak dapat diklik (berwarna abu – abu), ini problem lain lagi. Jadi setelah mencoba beraneka macam petunjuk, sempat gunakan group policy, akhirnya ketemu 1 tutorial yang dapat dinamakan lebih pada trik saja.
Petunjuk ini bukan guna memandu cara menghidupkan atau mematikan proxy pada Google Chrome, melainkan sebab fitur tersebut mengikuti pengaturan Windows karenanya kalau ada masalah tak dapat dinonaktifkan sendiri – sendiri. Jadi pilihannya proxy pada Windows aktif karenanya pada browser pun sama, kalau mati pun sama. Bagaimana kalau mau pada Windows tetap hidup proxynya tapi Chrome tetap browsing koneksinya seketika tanpa perantara?
Tutorial mengatasinya mudah saja, kita akan menjalankan Chrome pada parameter spesifik yang menginstruksikan bahwa mesin browsernya akan dimulai tanpa proxy. Dan ini lewat shortcut.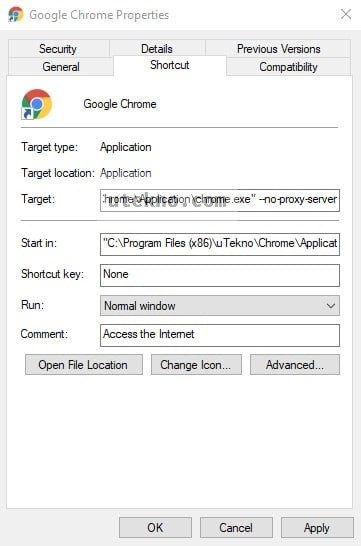 Tekan kanan di icon shortcut Google Chrome
Pilih Properties
Di baris Target, isikan teks berikut pada akhirnya --no-proxy-server
lalu OK
Sesudah dia panggil Chrome lewat shortcut tadi dan semestinya telah berfungsi normal kembali setelah kita paksa tanpa butuh proxy server koneksinya.
Sekianlah dan semoga bermanfaat. ??