Kamu sudah membeli barang dari Belanda atau mengirimkan barang kesana? Ya, biasanya jasa ekspedisi internasional yang sangat umum digunakan yaitu EMS (Express Mail Service) dan dapat dicek dari Indonesia. Namun kita hanya akan mendowload status umum mengenai proses pengirimannya, kalau mau tahu apa yang terjadi pada Belandanya karenanya lebih bagus lagi seketika cek resi disana. Gampang kok caranya.
Yang harus kita kerjakan hanya mengakses laman International Track & Trace dari PostNL (Post Netherlands) dan kemudian pada bagian kanan kamu akan mendapatkan kotak pelacakan yang meminta kamu mengisikan barcodenya (nomor resi), masukkan saja dan tekan Find.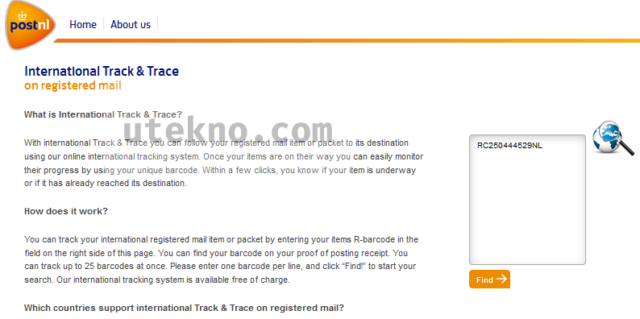 Nanti kamu akan dialihkan pada laman detail hasil cek resi EMS pada Belanda pada wujud tabel.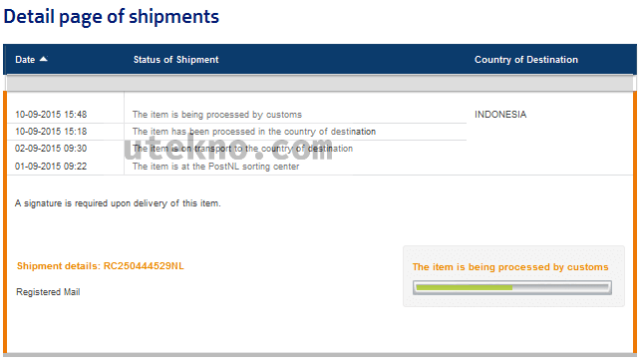 Contoh isi tabelnya:
Date

Status of Shipment
Country of Destination
10-09-2015 15:48
The item is being processed by customs
INDONESIA
10-09-2015 15:18
The item has been processed in the country of destination
02-09-2015 09:30
The item is on transport to the country of destination
01-09-2015 09:22
The item is at the PostNL sorting center
A signature is required upon delivery of this item.
Kamu dapat mengetahui status dari paketnya, kapan terjadinya, dan dimana lokasinya terakhir. Ternyata kiriman paketnya masih diperiksa bea cukai pada Indonesia. ?? Padahal telah 1 bulan lebih.